Award Winning Childrens Entertainer Chesterfield Alex Michael specialises in performing super magical parties for children aged 3 and upwards in and around the Chesterfield.
Alex magic show contains stacks of magic, lots of helpers and it generates lots of fun and laughter. If it is a childrens birthday party the birthday child is always the star of the show. This lasts for about 40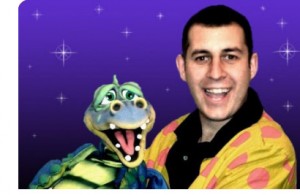 minutes.
As a Childrens Entertainer Chesterfield Alex specialises in providing an exceptional level of service and great value party packages and each performance is tailored very differently from a 4 year old party to a 10 yr old party and even a family show which is magic to all ages.
On top of Alex's magic show Alex also offers a mini disco and games. This means that if you have are having a 2hr long party with the magic show and games, if there is a food break this will fill the full party.
All of the party packages details can been seen here  https://www.alexmagic.co.uk/children.html
There is a contact form on the side of my website. Please ill this in for availability and prices.
Childrens Entertainer Chesterfield
Alex Michael has an online movie of him in action at a traditional childrens party. Why not see for yourself why he is the most in demand magician in Chesterfield: http://www.youtube.com/watch?v=R29oGcrzkrU&feature=plcp
The size of the party doesn't matter. Be it 2 children all the way up to a school show with 100+ children. This is no problem at all as Alex has dealt with nearly every size and age of children possible.
Don't just believe the hype see for yourself on the testimonials page from real people who have seen and enjoyed Alex's magic https://www.alexmagic.co.uk/testimonials.html
Enquire now by e-mailing Alex Michael Award Winning Childrens Entertainer Chesterfield on alex@alexmagic.co.uk  or by phoning 07890 217 203
Alex is also known as a Childrens Magician Chesterfield, Childrens Entertainer Chesterfield, Kids Magician Chesterfield and Childrens Entertainer Chesterfield and Children's Entertainer Chesterfield