I decided to take a trip to the cinema to watch this film as from the trailer looked pretty good and very funny.
Certainly the cinema I went to only had 10 people in it, so I am not sure if it had such an appeal.
Unfortunately the trailer was the very best parts from the film and the rest of the film as just your average feel good easy watching family film.
There are lots of in house magician jokes and the characters were a bit of a spoof as to how things happen on the Vegas strip.
The film is predictable, not really thought provoking and didn't have enough substance for me.
Jim Carrey is kind of funny but not his funniest role, there are lots of better films out there at the moment to watch
Would I recommend this film, no not really. Would I watch it on TV to fill some time , probably.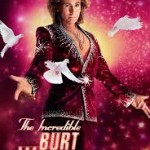 The Incredible Burt Wonderstone Review
5.5/10
Directed by
Don Scardino
Produced by

Chris Bender
Jake Weiner
Tyler Mitchell

Screenplay by
Story by

Chad Kultgen
Tyler Mitchell
John Francis Daley
Jonathan Goldstein