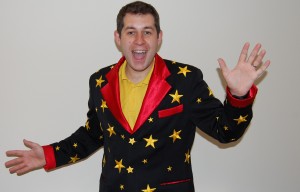 Childrens Entertainer Oakham
Alex Michael is an Award Winning Childrens Entertainer Oakham specialising in unique magical parties aimed at children aimed three year olds and upwards performing bespoke show to match the age range. (up to 16 years old).
He has now such a good reputation he performs at well over 100 birthday parties and shows every year.
Childrens Entertainer Oakham
As a Childrens Entertainer Oakham Alex specialises in providing an exceptional level of service and great hassle free communication and offers a great value for money magic show and party packages.
As well as his superbly funny, fully interactive magic show, his party package also includes a mini disco and games including parachute games, spinning plates, limbo and prizes and of course the most current pop music and lights.
You can view specific details of the party packages available here:  https://www.alexmagic.co.uk/children.html
Please fill out the contact form on my website stating which party package you like the look of and I will send you full details.
Or you can see a short showreel video of Alex in action at his childrens parties here : http://www.youtube.com/watch?v=R29oGcrzkrU&feature=plcp
Alex's childrens parties are suitable for 2-3 children in a house all the way up to a large hall or school will hundreds of screaming children
Alex receives great feedback and thank you e-mails after most of his shows and events that he performs at, so has a testimonials page which documents these. You can view this here https://www.alexmagic.co.uk/testimonials.html
Enquire now by e-mailing Award Winning Childrens Entertainer Oakham Alex Michael on alex@alexmagic.co.uk  or phone 07890 217 203
Alex aims to reply to all questions within 24hrs.
Mark presents himself as a magician to children and entertains with a show with puppets and various props Alex is also known as Childrens Magician Oakham, Childrens Entertainer Oakham, Kids Magician Oakham and Childrens Entertainer Oakham and Children's Entertainer Oakham
You call also 'follow' Alex on the following social networking sites
Facebook    http://www.facebook.com/alex.cahill.7
Twitter  https://twitter.com/sleightking